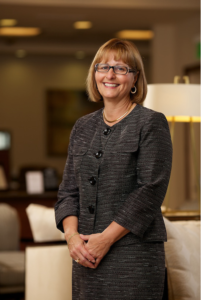 Joseph R. Catti, President and CEO of FineMark National Bank & Trust and Richard E. Riley, President of FineMark's office in the Bonita Springs area, are pleased to announce Ceil Mosher has joined the bank as Vice President, Private Banking at the Coconut Point office.
Ms. Mosher comes to FineMark with more than 20 years of banking experience. Most recently she managed a Private Banking Team in Bonita Springs. Prior to that, she held the position of Vice President and Branch Manager at a retail bank in Lee County.
Catti commented, "Ceil is dedicated to personal service and building deep relationships. We are fortunate to have her join the FineMark team." Riley added "Ceil has a proven track record in Southwest Florida. She is committed to excellence and personifies FineMark's service oriented culture"
Ms. Mosher has lived in Estero with her family since 1982. She takes an active role in the community as a Bonita Middle School Volunteer, a Literacy Buddy and a Hope Hospice volunteer.
FineMark National Bank & Trust offers a comprehensive array of banking, trust, investment and brokerage services to clients interested in establishing long term, high touch relationships. FineMark is dedicated to providing a culture of service to clients and making a positive difference in the communities it serves.