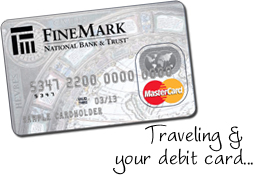 If I'm going on vacation and planning on using my debit card, should the bank be notified?
Yes. If you're planning a trip far from home, it's important to call the bank first and let us know. FineMark systems are designed to protect you from fraud. Unusual charges to your account made outside of our area may result in our system suspending the use of your card until such time as FineMark can ascertain that the charges were in fact initiated by you. By telling us in advance that you will be traveling, we can be certain that the use of your card will not be interrupted.
Are there transaction limits using a debit card?
Whether you are home or abroad, all debit cards from FineMark are set up with default limits, to protect you and the bank if your card is fraudulently used. Those limits, $500 per day cash out or $1,000 per day for purchases can be changed at the customer's request. If you think you'll need more than the default limit while traveling, call us and we can adjust the limit for a one time transaction or for the duration of your travel. It's also important to consider the exchange rate when using an ATM abroad. The limit is 500 US dollars.
Are the fees more expensive when using debit cards internationally?
While FineMark never charges you fees to use your debit card, it's important to note international banks may charge you exchange fees. Those fees may vary and you may want to check with the bank, before you use their ATM.
What are the risks of using a debit card internationally? Is a credit card a better option?
The biggest risk with using a debit card is losing it. A debit card is linked directly to your account and funds are immediately debited. A benefit to using a credit card is that all of the transactions can be disputed and your account is not automatically debited. However, many travelers prefer using their debit card for access to cash abroad so they don't have to carry large amounts of cash. If you fall into this category, just make sure you keep a close eye on your card.
If you have any questions about your debit card, please give us a call: 230-461-5900.