Original article: Chamber crowns new Mango Queen
Pine Island Eagle
, 
http://www.pineisland-eagle.com/page/content.detail/id/557330/Chamber-crowns-new-Mango-Queen.html?nav=5051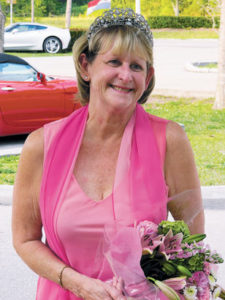 The Greater Pine Island Chamber of Commerce named the new Mango Queen at its monthly card exchange meeting Wednesday night at Century 21 Sunbelt. Chamber executive director Jennifer Jennings made the announcement that this years Mango Queen is DJ Ruscik.
The Mango Queen will have the honor of representing Pine Island and Matlacha and hold court at the 23rd annual MangoMania Tropical Fruit Festival in July.
"This event is the official kick-off to the 2019 Mango Mania season," Jennings said. "Every year we kick off MangoMania by crowning our new Mango Queen. I can honestly say that this year's Mango Queen is an outstanding woman and an outstanding citizen. if you need anything, you call her, she's there, and she's a leader of one of the biggest organizations on the island, the Matlacha Hookers. Our 2019 Mango Queen is DJ Ruscik."
In the coming year the Mango Queen will travel throughout Lee County to promote the MangoMania event as well as local businesses. The queen will also participate in other chamber functions including riding atop the chamber float in the Pine Island Fourth of July parade.
"I absolutely tickled to even been considered for this," Ruscik said. "My husband and I have been a part of this community since 1989. We would come here and spend weekends, then long weekends, and then vacations. Finally we found our place in 1997 and officially moved here in 1999. From the moment we set foot here, we dove into the deep end because there are so many great organizations on the island. I will do the best job I can do."
"This will be our 23rd anniversary of Pine Island's Mango Mania – Tropical Fruit Fair," Jennings said. "The 2019 Mango Mania Festival is a two-day event at the German American Club in Cape Coral on Saturday, July 13th and Sunday 14th."
Every year MangoMania features two T-shirt designs. One T-shirt designed by a child under 12 and one adult. In addition to have having the designs printed on the 2019 T-shirt, winning artists' designs will be featured on the Mango Mania website, and on MangoMania promotional information. Shirts will be available for purchase at the Chamber office and MangoMania.
The winner of this year's children T-shirt design is 10-year-old Serenity Davis. The winner of the adult T-shirt is Karen Forkey.