Individual Deep-Dish Apple Pies with Lattice Top Crust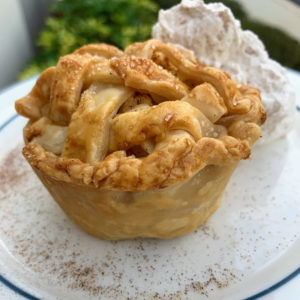 For Pie Filling
3 Granny Smith Apples, peeled and cored
5 Tbsp.  Sugar (divided)
2 tsp. Cinnamon
2 tsp. All-Purpose Flour
1 tsp Vanilla Bean Paste
Pinch of Salt
1 egg
2 Tbsp. Sugar
Directions:
1 Recipe Double Crust Pie (see below)
Pre-heat oven 325 degrees Fahrenheit
Cut the peeled and cored apples to medium dice into a medium size mixing bowl.  Add 4 Tbsp. sugar, cinnamon, flour, vanilla and salt, toss to coat apples.  Allow mixture to sit for 15-20 minutes, this allows the apples to macerate slightly.
Roll out your pie crusts and cut 6, 4" diameter circles, saving scraps for lattice top crusts.
Lightly grease the bottoms and sides of a cupcake pan, gently drop the pie crust circles into the openings, pressing gently to the bottom, the crusts should reach the top of the pan on all sides.  Fill each pie crust with all the apples and the juice in the bottom of your bowl, set aside.
Using your extra pie dough and scraps, roll out to 1/8" thickness and cut into individual strips, approximately 2-3 inches in length and 1/8-inch width.
Take strips of the lattice and lay them on your pie, leaving small gaps between. I like to line up the short strips from the edges with the edge of the pie plate and use the longer strips in the middle.
To weave your lattice, pull back every other strip and place a new strip of pie dough perpendicular to the strips you already laid. Replace the strips you folded over.
Then, do the same thing with the alternating strips. Keep going until the entire pie is covered in basket weave.
Trim the edges and crimp as desired. (I prefer a rustic look)
Break your egg into a small bowl and mix thoroughly with a fork, using a pastry brush coat the tops of your pie crusts lightly with egg and sprinkle 1 Tbsp. sugar over to cover the lattice tops.
Place into pre-heated oven for 25-30 minutes.  Your apple mixture will be bubbly, and the crust will be golden brown.
Remove from oven and allow to cool slightly, using an off-set spatula, gently loosen the pie crusts from the inside of the cupcake pan.  Once the pies are cool enough, you will be able to carefully pop them out with your off-set spatula,
*To save time, I prefer Pillsbury Refrigerated Pie Crusts
Recipe for Double Crust Pie
Ingredients
2 cups of all-purpose flour
3/4 teaspoon of salt
2/3 cup of shortening
6 tablespoons of water
Instructions
Combine flour and salt.
Cut in shortening until crumbly.
Add water, mixing dough with hands until a ball forms.
Divide the dough in half, wrap, and refrigerate for an hour.
Take dough, sprinkle flour on a surface and roll out to fit the pie plate.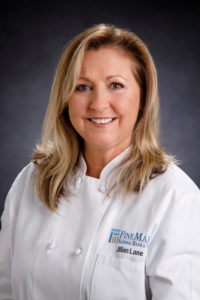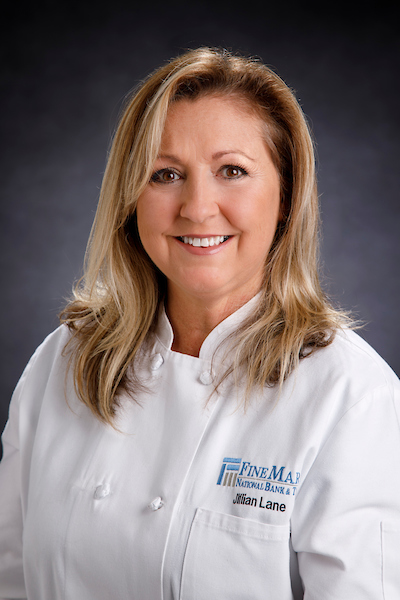 Recipe by: Executive Chef, Jillian Lane
Want more recipes? Check out all our chef recipes here!