Did you know, FineMark National Bank & Trust offers Mobile Check Deposit, which allows you to scan checks from your mobile device and deposit them into your personal checking accounts, electronically?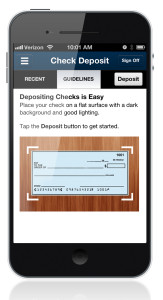 This service is part of FineMark's Mobile Banking App, is free of charge and is available for iPhone and Android devices. In order for this service to work, you must be signed up for online banking, have an iPhone or Android smartphone with the FineMark Mobile Banking app.
It's important to note:
Checks won't automatically post to your account
Checks could take several days to be processed
You will be notified via email twice. Once that the deposit has been submitted and a second time with an approval or rejection of your requested deposit
You should keep any deposited checks for 30 days before shredding them
Mobile Check Deposit is for checks only. Other types of deposits are not accepted.
If you have questions about how this new feature works, call or stop by your FineMark Office. We are always happy to help!