On Monday, August 14th, FineMark National Bank & Trust introduced its newly redesigned mobile app. The update includes a streamlined look and feel that makes checking your account balances, depositing a check, paying bills or transferring funds easy. This update occurred on all smartphone mobile apps, it will not affect FineMark's tablet app.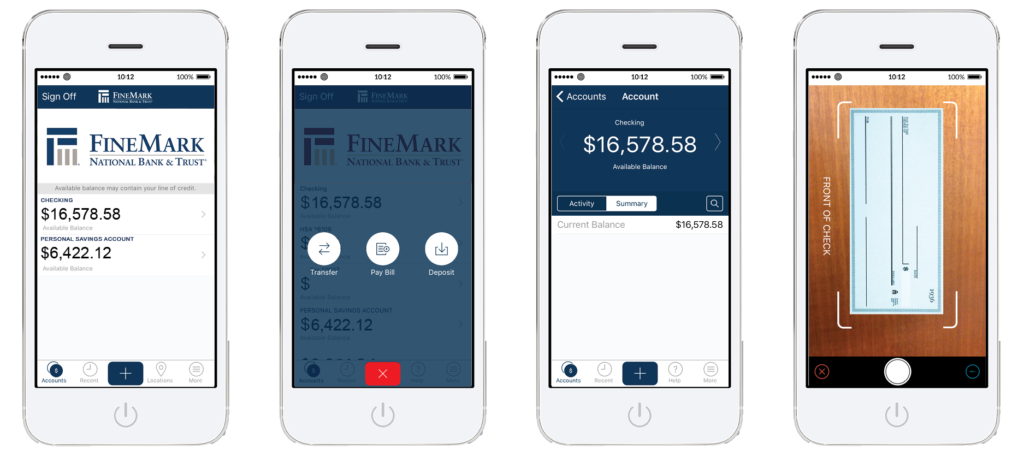 If you have any trouble signing into the mobile banking app, please give us a call or stop by one of our offices. We would be more than happy to help walk you through the process.
FAQs
1. I already have the mobile app installed on my phone, how do I initiate the update?
On Monday, August 14th, the update was released to the app stores. Upon opening the FineMark App, your device will begin automatically updating to the new version. If you do not see the version update, check for an update notification within your app store.
2. How will this be different than the old app?
Upon opening for the first time, you will have the option to view "What's New" in the app. Take a moment to read through these screens. The main difference is the location of the menu button. In the previous version of the app the menu button was located in the top left of the screen. It is now at the bottom of the screen and designated with a plus sign (+). In addition, some of the more commonly used menu options have quick links at the bottom on the screen.
The functionality of the new app is the same and you should be able to do all the things you were able to do on the old version of the app. If you run into issues or have trouble navigating the site, give us a call. We would be more than happy to help walk you through the process.
3. I don't have the FineMark Mobile App, how can I get it?
If you don't already have the FineMark mobile banking app, download the apps through buttons below.