In response to strong growth, firm recruits local team to serve clients in Palm Beach County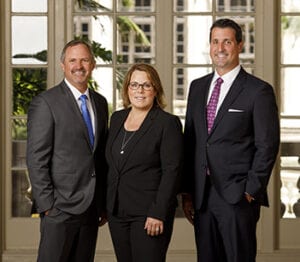 PALM BEACH, FL (August 27, 2018) – David H. Scaff, President of FineMark National Bank & Trust, Palm Beach, is pleased to announce a team of veteran wealth advisors, Paul Blatz, Dean Borland and Kim Bagatell has joined FineMark. Blatz, Borland and Bagatell come to FineMark after serving more than a decade each at GenSpring Family Offices and working with ultra-high net worth families.
"We are resolute to seek out the very best individuals in the business who align well with our mission to go above and beyond for our clients," says FineMark President & CEO, Joseph R. Catti. "We believe this group does that."
"Bringing on this team of three seasoned professionals with stellar reputations is a huge win for FineMark. They share FineMark's commitment of putting clients first, while delivering a very high level of service," said Scaff. "Because of their decades of experience working with families, they have the insight and experience needed to fit seamlessly into our culture of service."
The new team will work directly with individuals and families, Blatz focusing on portfolio construction and investment management, Borland focusing on comprehensive wealth planning and Bagatell providing day-to-day client service and interface. The three have worked together as a team for years, and in their new roles, they will continue to serve each client family by helping them implement a plan that fits their needs and financial goals.
About Paul Blatz
Prior to FineMark, Blatz was a Managing Director & Senior Family Investment Officer with GenSpring Family Offices. He was the recipient of the SunTrust Platinum Excellence Award in both 2016 and 2017. Blatz graduated magna cum laude from the University of Florida with a Bachelor of Science in Business Administration. He is also a Chartered Financial Analyst and member of the CFA Institute.
About Dean Borland
Prior to FineMark, Borland was a Family Wealth Advisor and Senior Vice President at GenSpring Family Offices. Borland graduated from the University of Florida with a Bachelor of Science in Business Administration. He is a Certified Public Accountant and a Certified Trust Financial Advisor.
About Kimberly Bagatell
Prior to FineMark, Bagatell was a Family Wealth Analyst with GenSpring Family Offices. Bagatell graduated from The Pennsylvania State University and has resided in South Florida for 30 years. Bagatell volunteers with the Palm Beach Philanthropy Tank.
FineMark National Bank & Trust offers a comprehensive array of banking, trust and investment services to clients interested in establishing long term, high touch relationships. FineMark is dedicated to providing a culture of service to clients and making a positive difference in the communities it serves. FineMark has been awarded a 5-Star Superior Rating for 29 consecutive quarters from Bauer Financial, the nation's leading independent bank rating and research firm.