Grilled White Peach and Prosciutto Salad with Asparagus and Hazelnuts
1 bunch fresh asparagus
2 white peaches
6 pieces thinly sliced prosciutto
2 Tablespoons olive oil
Salt and pepper to taste
1 handful toasted hazelnuts
12 thin slices of Manchego cheese
Half head of radicchio
Fresh mint
Microgreens and flowers (optional)
Balsamic reduction
Flaked sea salt
Directions
Bring a small pot of water to a boil and season liberally with salt. Cut the tough bottom park of the stalks off of the asparagus and boil for 1 minute. Immediately drain and place the cooked asparagus in a bowl of ice water to stop the cooking process. Remove from the ice water after 1 minute and pat dry with a paper towel.
Heat a grill pan (or outdoor grill) over medium heat.
Cut each peach into 6 wedges and wrap each wedge in half a piece of prosciutto. Drizzle with olive oil and season with salt and pepper. Grill for about 1-2 minutes per side, just enough to get grill marks.
To Assemble Salad
Thinly slice the radicchio and arrange for a base on the plate. Top with prosciutto wrapped peaches, blanched asparagus and toasted hazelnuts.
Finish with torn pieces of mint, microgreens and edible flowers. Drizzle with balsamic reduction, a little more olive oil and add a pinch of flaked sea salt.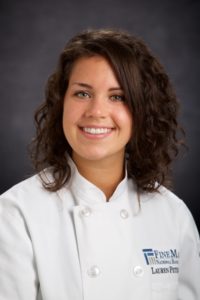 Recipe by: Executive Chef, Lauren Simon
Want more recipes? Check out all our chef recipes here!