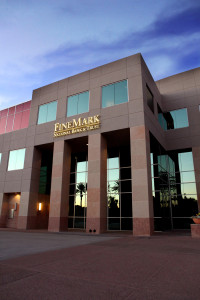 FineMark National Bank & Trust Scottsdale celebrated its grand opening party on Thursday, May 9th. 250 people attended the event including featured artist and former NBA standout Dick Van Arsdale. The "Original Sun" was joined by family and his identical twin brother, Tom Van Arsdale, also an NBA great. Guests enjoyed hors d'oeuvres and desserts catered by DC Ranch and delicious frozen margaritas by Z Tejas.
The event celebrated FineMark's move from a temporary location on Gainey Center Drive into 10,000 square feet of space at 7600 East Doubletree Ranch Road. The office has been fully renovated by FineMark with the help of Michael Deutsch of Immediate Solutions, LLC, Nancy Woodhouse of the Lubner Group, and Linda Andre of Office Furniture & Design Concepts.
FineMark's Scottsdale office is led by David Highmark, who left Northern Trust in 2011 after a 26 year career. Highmark also runs Highmark Sports Management (HSM), the professional athlete division of FineMark National Bank & Trust.
Highmark's team includes: Barbara Ausick, David Dunlevy, Barbara Ferrara, Chris Highmark, Brian Knapp, Aaron Mascarella, Tim Nguyen, Crystal Schuld, Rae Taylor, Traci Throne, and Chris Wilkinson.