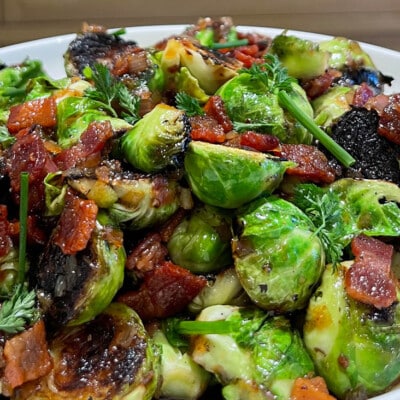 Seared Brussels Sprouts With Bacon Brown Sugar Glaze
Ingredients
3

pounds

small brussels sprouts

outer leaves discarded, stems trimmed, split in half

1/2

pound

slab bacon

cut into 1/2-inch thick by 1/4-inch wide pieces

2

cloves

garlic

finely minced

2

shallots

finely minced

1

teaspoon

fresh thyme leaves

removed from stems

1

teaspoon

orange zest

freshly zested from about 1/3 of a navel orange

½

cup

loosely packed dark brown sugar

½

cup

chicken stock

2-4

tablespoons

of grapeseed oil

Kosher salt and freshly ground black pepper
Instructions
Place bacon into 12-inch nonstick skillet. Add enough water to barely cover and cook over medium-high heat, stirring regularly to separate bacon. Once the water has evaporated, continue to stir and toss occasionally the bacon while allowing it to pan fry in the remaining bacon fat that has now rendered out.

Once bacon is crisp on all sides and golden brown, remove from heat immediately and transfer the contents to fine mesh strainer set over large heat-proof bowl, scraping all the crispy bits into the strainer.

Next, wipe out skillet and place your brussels sprouts into the cooled pan facing cut side down in single layer. Heat over high heat until smoking, and continue to cook without moving until deeply charred, about 3 minutes. Now, add 2 tablespoons of grapeseed oil and a nice coat of salt and pepper over the top, still not flipping the brussels sprouts or moving the pan excessively. After about 1 minute that the oil has been in the pan, flip and cook on until second side is charred and sprouts are tender-crisp throughout, about 3 minutes longer. Season to taste with salt and pepper and transfer to serving bowl.

Repeat with remaining sprouts, allowing the pan to cool and wiping it out in between batches.

Once the last batch is roasted, 2 tablespoons of your bacon fat to the pan with your shallots and garlic and place to cook over medium-low heat. Cook until the shallots and garlic are becoming tender.

Increase your heat to medium high, and Add your brown sugar and caramelize it in the pan for 2-3 minutes. Then add the zest, thyme and chicken stock. Cook for 3-4 minutes until the chicken stock has reduced 90% of the way and a nice glaze has formed.

Add rendered bacon, and toss all to combine. Serve immediately.