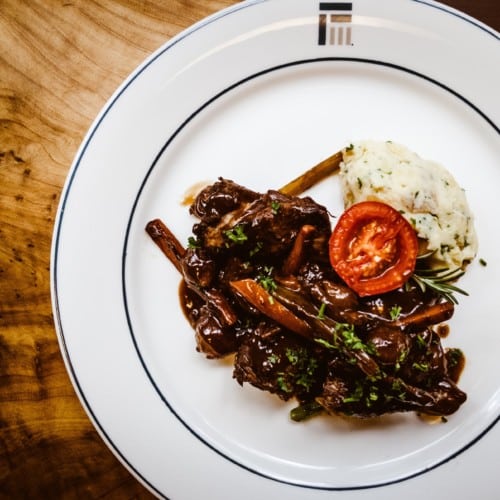 Zinfandel Beef Short Ribs & Root Vegetables with Roasted Garlic Yukon Gold Mash
Ingredients
Zinfandel Beef Short Ribs and Root Vegetables
Olive Oil

to sauté

12-14

oz.

Beef Short Ribs (per person)

seasoned with salt, pepper and thyme

2

Diced Onion

(white, yellow or leeks)

2

Fresh Garlic

chopped

3

ribs

Celery

rough cut

1

bottle

Zinfandel

1

Bay Leaf

1

handful

Fresh Thyme

including stems

4

Carrots

peeled and rough cut

Salt & Pepper

to season at the end

Batonnet-cut Root Veggies  

French fry cut

Beef Stock or Broth

3

tbsp

Tomato Paste

Corn Starch
Roasted Garlic Yukon Gold Mash
Garlic Cloves

pre-roasted to soft and lightly browned stage

2-3

Small Yukon Gold Potatoes (per person)

washed and unpeeled

4

oz.

Unsalted Butter

per pound of potatoes

4

oz.

Heavy Whipping Cream

per pound of potatoes

Salt and White Pepper

(go light on the white pepper)

Chopped Italian Parsley
Instructions
Zinfandel Beef Short Ribs and Root Vegetables
In a hot, large (and fairly deep) braising pan, sear the seasoned beef on both sides to brown in as little oil as possible oil. Short Ribs are fatty so not much will be needed.

Add onions, garlic, celery, carrots, bay leaf and thyme and cook until translucent. Dust ingredients with corn starch, just enough to absorb oil and lightly coat. (This will be used to thicken.)

Add Zinfandel and simmer to reduce by half.

Add broth and tomato paste, stir and continue to simmer until beef can be pierced easily. (A good indicator of tenderness is by using a dinner knife or a spoon to pierce.) This will usually be about one and a half to two hours. Add liquid as needed. When ready, skim out beef and strain sauce. Return sauce to braising pan, add the root veggies and cook until al dente. Add beef back to pan to reheat.
Roasted Garlic Yukon Gold Mash
In a large, (stock-type) pot, boil potatoes and cook until soft. Then remove from water and place in a mixer. Mash until they are pretty smooth. Gold Potatoes have a waxy property and will produce a different texture.

While potatoes are cooking, heat the cream, butter and garlic in a separate saucepan. When heated, set aside.

Slowly mix in butter, cream and garlic mixture. Season, add parsley and serve!