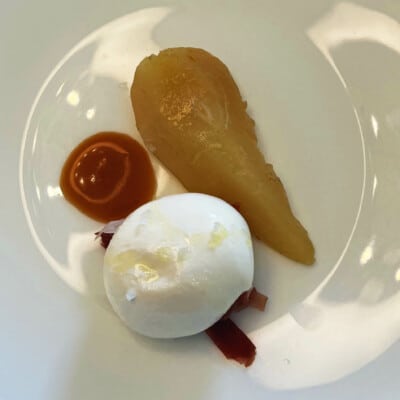 Similar to mozzarella, burrata is a milky orb, filled with cheese curds and cream. In this recipe, it guest-stars alongside a beautifully poached pear, drizzled in honey.
Ingredients
2

containers burrata

2- 4-ounce balls

1

pack Jamon Iberico or Jambone de Bayonne

2

Bosch pears

1 ½

cups

Raymond Signature Collection Napa Valley Chardonnay

½

cup

water

½

vanilla pod

scraped out

1

cinnamon stick

1

star anise

1/3

cup

honey

¼

cup

granulated sugar

Zest of 1/4 orange

Zest of ½ lemon

Salt to taste

¼

tsp

Ground white pepper

¼

heavy cream

Olive oil

Malden salt
Instructions
To prepare the pears: Mix your wine, water, vanilla scrapings and pod, cinnamon, anise, honey, sugar, zests, salt, and white pepper in a large pot. Bring to a simmer to dissolve sugar. Peel the Bosch pears, cut them in half, and add them to the heated poaching liquid. Make sure the pears are fully submerged and Cook at a low simmering boil for 10-20 minutes depending on the ripeness of the pears, until tender with a fork but not falling apart. Remove the pears and place on a plate or tray in the fridge to cool.

To make the sauce: Strain your poaching liquid into a bowl (discarding of the spices), rinse and wipe out your pot, and return it to the stove with the now strained poaching liquid over high heat. Boil the liquid until it has reduced about 85%, leaving a more syrup like consistency. Reduce to medium low heat and add the heavy cream. Cook for about 2 ½ minutes until reduced and a nice sauce consistency.

To serve: Place a slice or two of the ham on the plate just off center. Place the burrata on the top of the ham and drizzle with the olive oil and sprinkle with Malden salt. Then split your poached pear in half, remove the core and place the two quarters on the plate with a spoon of the sauce around the pears.
Notes
45 minutes before serving, remove the burrata from the refrigerator and allow them to come to room temperature.