Jump to Recipe
Are you in the mood for a decadent and delightful breakfast or brunch? Look no further than these heavenly Liege Waffles with Salted Caramel Sauce, Whipped Cream, and Fresh Berries! Delighting your taste buds with their golden crispy exterior and fluffy tender interior, these Belgian-style waffles are a must-have for any special occasion or leisurely weekend morning.
Experience the perfect blend of sweet and indulgent flavors in every bite, making these Liege Waffles with Salted Caramel Sauce, Whipped Cream, and Fresh Berries an absolute treat that will leave you craving for more!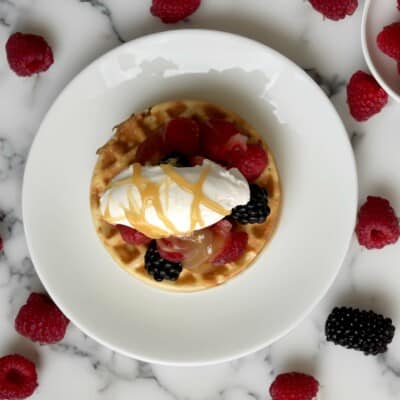 Liege waffles
If you're craving a sweet and indulgent breakfast or brunch, these Liege Waffles with Salted Caramel Sauce, Whipped Cream, and Fresh Berries are an absolute treat! Golden and crispy on the outside, and fluffy and tender on the inside, these Belgian-style waffles are perfect for any special occasion or lazy weekend morning.
Equipment
Stand Mixer

Food/Candy Thermometer

Belgian Waffle Maker

Our chef suggestions this Waffle Maker: https://a.co/d/1hup8Fr
Ingredients
1

cup

milk

20 cl of milk or 200g - heated to 105F

7

g

instant dry yeast

1 pack fischmans yeast works

250

g

pastry flour or fine wheat bread flour

Whole Foods Market 365 whole wheat pastry flour

250

g

all-purpose flour

King Arthurs Organic All-Purpose Flour

2

eggs

50

g

light brown sugar

25

g

granulated or casters sugar

2

tsp.

vanilla extract or vanilla bean paste

Nielsen Massey Vanilla Bean Paste

1

generous pinch of salt

300

g

unsalted butter

Kerrygold

225

g

Belgian pearl sugar

Lars Belgian Pearl Sugar
Instructions
Warm milk to 102F. Remove from heat immediately and transfer into separate container to prevent continuous heating. Add yeast. Add a punch of brown sugar and stir. Let sit until yeast is bubbly, 5-8 minutes.

In a stand mixer, add sifted flour, sugar, salt. Mix together with a hook for 1-2 minutes.

Add milk mixture while mixing on medium speed, drizzling around the edges. Add 2 eggs and vanilla. Mix to combine, stopping and scraping the bottom repeatedly. Once flour is removed and combined fully from below the dough mixture, add the butter cut into pieces. Mix to combine fully. Dough will be sticky and loose.

Spread butter inside clean large bowl. Transfer dough to bowl. Place plastic wrap flat on surface of dough. Place airtight lid or seal top of bowl with plastic wrap.

Place in warm area of kitchen and allow to almost double in size.

Remove the dough from the bowl and place it on a lightly floured board. Using a floured rolling pin, flatten the dough out into a 1/2" thick circle and spread out two-thirds of the measured pearl sugar. Fold the bottom third up and then the top third on top of that, closing in the sugar. Press down and add the rest of the pearl sugar on top. Fold the sides up to form a rectangle. Slowly roll the dough into a log about 12-14" long. Using a floured knife or bench scrapper, Divide the dough into 12 pieces and flatten them slightly into round discs and place on a parchment-lined tray. Cover with lightly sprayed or greased plastic wrap to avoid trying out.

Heat up your Belgian waffle maker to medium-low heat and spray the iron with non-stick spray. place a round of dough in the center of your waffle maker. Close and cook until the waffle puffs up, cooked through and the sugar pearls are caramelized. You'll need to check and adjust by increasing or decreasing the temperature a until you find the correct setting that will caramelize your sugars and cook your waffles to the golden caramel color. Carefully remove from the maker and top with desired toppings. Serve Immediately.