Roasted Vegetable and White Bean Bowl
1 small head cauliflower
1 small head romesco
1 cup Brussels sprouts, halved
1 bunch baby carrots
1 can large butter beans, drained and rinsed
Goat Cheese
Olive Oil
Salt and Pepper
Tender Herbs of Choice (dill, parsley, cilantro, mint, etc)
Red Wine Vinaigrette (recipe follows)
Preheat oven to 425 F. Place two sheet pans in the oven to preheat.
Slice the cauliflower into 'steaks' and gently toss with olive oil, salt and pepper.
Toss the baby carrots and brussels sprouts with olive oil, salt and pepper in a separate bowl.
Carefully transfer the cauliflower and romesco to one preheated and pan and transfer the brussels sprouts and carrots to the second pan. Roast until tender and evenly browned all over.
Allow the vegetables to cool and toss the butter beans with the red wine vinaigrette.
Layer the vegetables on a large serving platter and top with butter beans, goat cheese and torn herbs of choice.
Red Wine Vinaigrette
1 small shallot, grated
3 Tablespoons red wine vinegar
3 Tablespoons olive oil
Salt and pepper to taste
Whisk together the shallot, vinegar and olive oil until well combined. Season with salt and pepper.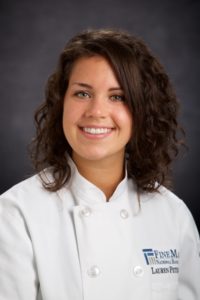 Recipe by: Executive Chef, Lauren Simon
Want more recipes? Check out all our chef recipes here!