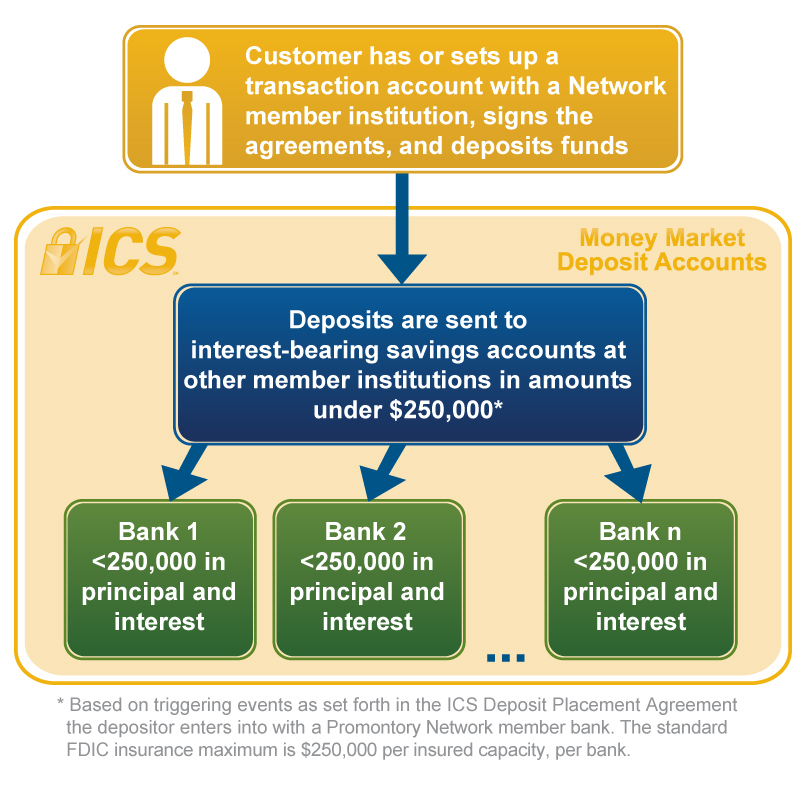 Temporary Unlimited Coverage for Non-Interest Bearing Transaction Accounts Set to Expire.
As of December 31, 2012, unlimited coverage for non-interest bearing transaction accounts will expire. This deposit protection was originally introduced to stabilize deposit bases when the banking system came under extreme stress during the financial crisis in 2008.
It's been available to all depositors, including consumers, businesses, and government entities. The unlimited coverage is separate from, and in addition to, the insurance coverage provided for a depositor's other accounts held at an FDIC-insured bank. But now, barring congressional action to extend the program, demand deposit insurance for accounts with balances exceeding $250,000 will expire.
How can you protect your assets?
If this leaves you wondering what to do to protect your finances, one option may be a service we now offer called ICS (Insured Cash Sweep) Money Markets, where all balances in this account will be FDIC insured.
Here's how it works:
Once you have identified an existing account or established a new account to be used with the ICS service, everything is handled through FineMark.
Your funds are placed using ICS and sent from the account at your bank to savings accounts (money market deposit accounts) at other ICS Network institutions – each a regulated depository institution. ICS allocates funds to savings accounts (money market deposit accounts) at other banks in amounts below the standard FDIC insurance maximum so that both principal and interest are eligible for FDIC insurance.
You receive an account statement from FineMark and your confidential information remains protected. Thus, by conveniently working directly with just one bank, you can receive insurance coverage from many.
If you have any questions, please contact your banker. We will be happy to assist you.
Prepared by Broadridge Investor Communication Solutions, Inc. Copyright 2011-2014.