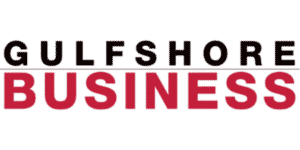 FineMark Bank is heading to Downtown Naples and we couldn't be more excited by the news!
The 2,200-square-foot space will be located three blocks of Fifth Avenue South and resides on the ground floor of a building developed by Naples Redevelopment, designed by MHK Architecture and Planning, with interiors by Clive Daniel Home.
Clive Daniel Home plans for the new FineMark Bank to have a sleek, modern look featuring a refined palette of neutrals accented with the brand's signature blue.
"The entire space is designed with FineMark Bank's clientele in mind," Adnilem Barrera, lead designer of the project, said. "We aim to ensure that all future guests will experience a comfortable but upscale environment that matches the level of FineMark's personalized services."
The new downtown office will be FineMark's second full-service bank in Naples and will open in Spring 2022!
Head to our recent Gulfshore Business feature to learn more: https://www.gulfshorebusiness.com/finemark-bank-to-open-new-downtown-naples-office/
Like to know more about our new Downtown Naples office?
Visit our page here: https://www.finemarkbank.com/downtown-naples-fl/