Congratulations to Harlan Parrish, champion of education, named Bonita Springs Citizen of the Year
Original article: Harlan Parrish, champion of education, named Bonita Springs Citizen of the Year
By Thaddeus Mast, Naples Daily News
https://www.naplesnews.com/story/news/local/2019/08/29/harlan-parrish-champion-education-named-citizen-year/2122670001/
HARLAN PARRISH, 2019 CITIZEN OF THE YEAR AND PRESIDENT OF FINEMARK NATIONAL BANK AND TRUST, LEE COUNTY, ACCEPTS HIS AWARD AT THE ANNUAL BONITA SPRINGS CHAMBER LUNCHEON. (PHOTO: THADDEUS MAST/NDN STAFF)
A man who is described as being passionate about providing a fair education to every Lee County child was chosen as this year's Bonita Springs Citizen of the Year.
Harlan Parrish — president of FineMark National Bank and Trust, Lee County —, accepted this year's award at the Bonita Springs Area Chamber of Commerce Awards Luncheon held Thursday at the Hyatt Regency Coconut Point Resort & Spa in Bonita Springs.
"He's a real southern gentleman," said Trish Leonard, a Citizen of the Year honoree and a member of the selection committee. "He never says no and has done everything we've asked. He's committed to Southwest Florida."
Parrish will be the next chairman of the Foundation for Lee County Public Schools, which is meant to "enhance and enrich the quality of public education in Lee County for students and educators," according to its website.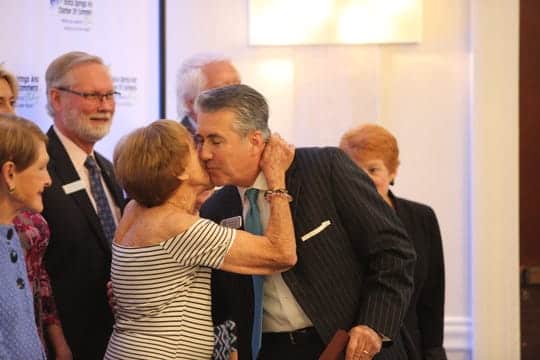 CITIZEN OF THE YEAR HARLAN PARRISH GREETS FORMER CITIZEN OF THE YEAR KATHY MCGRATH AT THE ANNUAL BONITA SPRINGS CHAMBER LUNCHEON THURSDAY. (PHOTO: THADDEUS MAST/NDN STAFF)
The Foundation fundraises to support Lee County public education programs and provide learning resources.
"This is the driver of our economic life here," Parrish said of education during his acceptance speech. "We've got to make sure we have a world-class school system to produce our future bankers, doctors, attorneys and so forth. For the business community to get engaged and help these students — it's a necessity."
Parrish spent 20 years in Bonita Springs, except for a stint in Alabama to develop a bank. His daughter recently graduated from Columbia University, and Parrish said the Lee County School District set the foundation for her success.
"It planted a seed that grew into what she is today," he said.