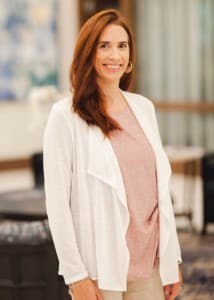 Joseph R. Catti, Chairman and CEO of FineMark National Bank & Trust is pleased to announce Tiffany A. Williams has been promoted to Fort Myers President.
Williams has been with FineMark since 2010 and has more than 15 years of experience in the financial services industry. Most recently, she served as Executive Vice President and Chief Banking Officer for the organization. Prior to that, Williams served as Banking Manager in Fort Myers and Managing Executive for Shell Point Village, a retirement community in Southwest Florida.
"Tiffany has a deep understanding of our business and our culture," said Catti. "She has proven her commitment to serving our clients and the community and continues to grow as a leader in this organization."
Williams is a member of the Bank's Board of Directors and serves on the Information Technology and Cybersecurity committee and Marketing committee at FineMark. She holds a bachelor's degree in management information systems from Florida State University. She is also a graduate of the Florida Bankers Association Trust School at USF in Tampa.
Williams currently sits on the board of C.O.A.C.H (Community Outreach to Achieve Change on the Homefront) and has volunteered with the Big Brother's Big Sister's Beyond School Walls program, which provides mentorship to high school students in a professional setting.
FineMark National Bank & Trust offers a comprehensive array of banking, trust and investment services to clients interested in establishing long term, high touch relationships. FineMark provides a culture of service to clients and making a positive difference in the communities it serves.