Banking on Success
FineMark's sleek new headquarters accommodates its expanding presence
A sprawling entryway with white oak wood, porcelain and mosaic tile, high-end furnishings and pendant chandeliers dangling from a soaring 30-foot ceiling … No, we're not describing another mega-mansion in Southwest Florida; rather, FineMark National Bank & Trust's new, 60,000-square-foot Fort Myers headquarters.
"You can't believe you're looking at a bank. It's just amazing," says Dan Adams, vice president of South Florida at Stevens Construction, the company that completed construction for the building.
Architecture firm Studio+, civil engineer J.R. Evans Engineering, interior design company Clive Daniel Home and landscape designer Outside Productions Inc. also worked on the new three-story headquarters, which opened in December 2020 to accommodate the bank's rapid growth.
"We ran out of room at our existing location on Creekside Lane several years ago, and actually had to purchase a building down the street for operations," says Jessica Catti, senior vice president and marketing director at FineMark. "We wanted everyone back into the same building, while also making sure we had space for additional growth.
"We wanted to make sure we could be in this building for a very long time," she adds.
Adams remembers when he helped FineMark build its first office at a former Blockbuster in February 2007. Now, the company serves Florida, Arizona and South Carolina, with 108 employees based in the headquarters.
Located at 8695 College Parkway, the facility sets FineMark up for a new chapter and brings its historic Fort Myers lot into a new and improved era. "This is an iconic corner in Fort Myers. For many years, The Rafters and then The Atrium housed successful businesses here, but over time, that changed, and the building began to deteriorate," Catti says. "It was in such disrepair that it would have been more expensive to renovate rather than start over when we purchased it. We believe we have reshaped this corner in a really beautiful and positive way."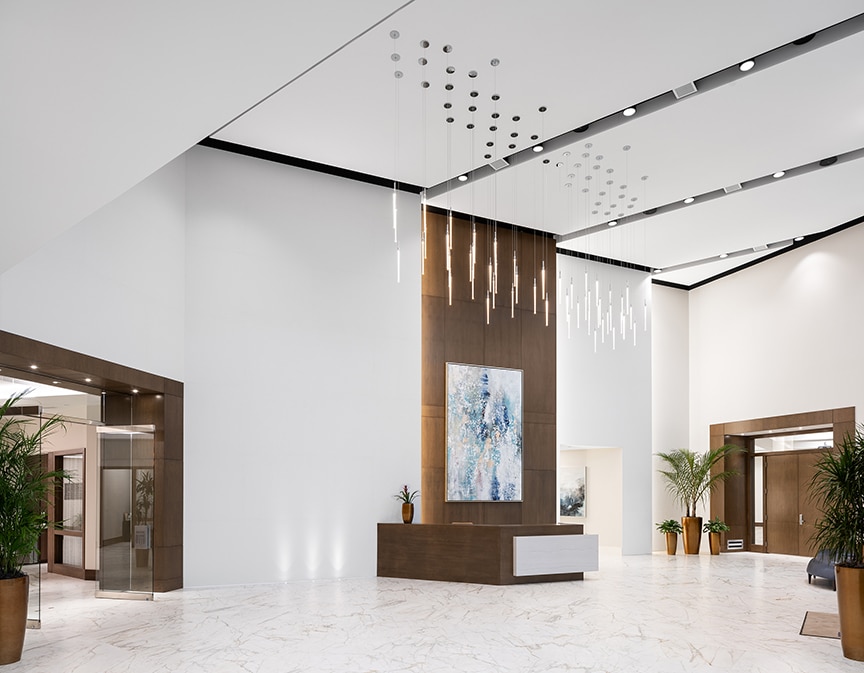 REDEFINING BANKING: The contemporary new headquarters for FineMark in Fort Myers features a sprawling entryway with white oak, porcelain and mosaic tiles and pendant chandeliers.
The new contemporary-transitional-style facility is flooded with natural light. There's plenty of flexible seating inside, plus a community room with a 200-inch projection screen, surround sound, dimmable energy-saving lighting control systems and power window shades. The stone-paved roof of a porte cochere provides pleasing views to those on the second and third floor, and there's even a commercial-grade kitchen to entertain guests during educational presentations.
"We often have cocktail receptions that go along with these events," Catti says. "Our chefs also prepare daily lunches for clients and associates, so they can meet privately in a comfortable setting."
The nonprofits FineMark partners with also benefit from the lavish appointments. "FineMark is very philanthropic, and we work closely with a number of nonprofits. They will, at times, use our space for their own receptions," Catti says.
The new location seems symbolic of the company's continued contributions to the area. "FineMark is a great success story in this community, growing from the ground up," Catti says. "We are proud of the many relationships we have built, and proud that we have remained true to our culture and commitment to serving our clients and our community."
FineMark National Bank & Trust HQ
8695 College Parkway, Fort Myers