Iconic Atrium makes way for FineMark headquarters
BY GLENN MILLER
Florida Weekly Correspondent
Original article: https://fortmyers.floridaweekly.com/articles/iconic-atrium-makes-way-for-finemark-headquarters/
Lee County history at a busy south Fort Myers intersection is disappearing day-by-day, truckload by truckload, vanishing forever. The past in question was once a mall initially called the Rafters and then the Atrium, a 127,000-square-foot shopping center now headed to the dustbin of local retail history.
The future will soon begin rising in its place at 8695 College Parkway as the head- quarters of FineMark National Bank & Trust. The 60,000-square-foot building is scheduled to open in November of 2020 on the 6-acre site.
FineMark is now in a 20,000-square-foot building at 12681 Creekside Lane, nestled in Riverwalk at Whiskey Creek corporate park and surrounded by medical offices.
The move will be only six-tenths of a mile, according to Google Maps. FineMark CEO Joe Catti thinks the bank's current and future home are even closer than what Google Maps estimates.
"You could almost hit a driver," said Mr. Catti, referring to a golf club and not a person driving a car. "It's not six-six-tenths of a mile. It's closer. It's much closer."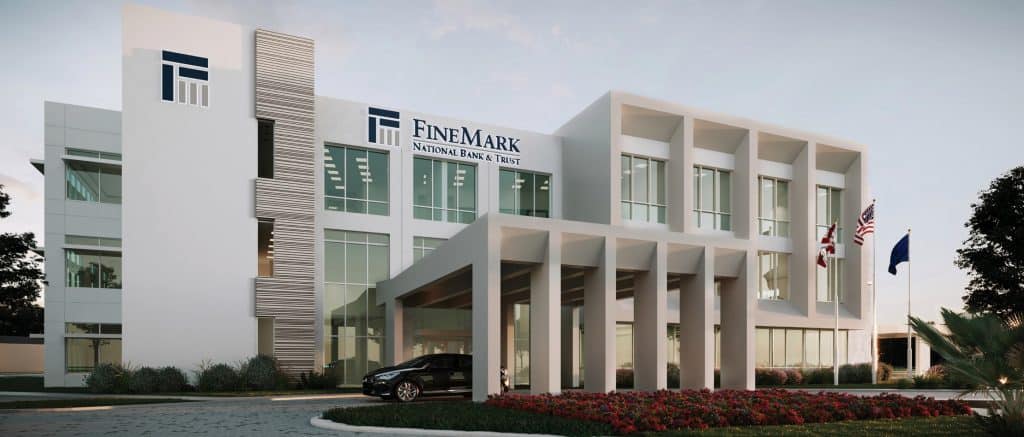 Although the physical move of Fine- Mark will be short by either the estimate of Google Maps or Mr. Catti the journey in the story of this financial institution is impressive and tells how far it has come.
It opened its current headquarters in May of 2008. When the bank was founded in 2007 it had 10 employees. It now has roughly 200 employees. FineMark's total assets have grown from $35 million to $1.8 billion, according to the bank's website. It has other offices in Lee, Collier and Palm Beach counties as well as in Scottsdale, Ariz., and Charleston, S.C.
FineMark's new headquarters story is one Mr. Catti, Stevens Construction president Mark Evans and architect Damon Romanello of Studio+ shared one afternoon last week in a second-floor conference room at FineMark's current headquarters.
Stevens will build the headquarters, which was designed by Mr. Romanello's firm.
While they chatted, workers from Honc Destruction were nearby taking apart the old shopping mall.
That process started June 3 and should be done in 60 days, according to Honc president David Mulicka.
It's a huge project requiring more than merely knocking down walls.
"The project includes removing the entire building, parking lot, trees, landscape and underground utility lines from the site," Mr. Mulicka said. "We will then use the excess fill materials from the east side of the site and grade the entire property level to be a clean site for Stevens to rebuild."
The deconstruction is literally heavy lifting. Mr. Mulicka provided these statistics:
¦ 12,000 tons of concrete.
¦ 300 tons of steel.
¦ 40 tons of non ferrous metal (aluminum/ copper/wiring).
¦ 400 tons of horticulture, 1,200 tons of asphalt, and 2,000 tons of mixed construction materials.
About 90 percent of that will be recycled and is being hauled away by a fleet of 12 trucks.
The project may lead to more business for Honc.
"The high profile of this site has certainly made our phone ring with compliments and new business opportunities," Mr. Mulicka said.
Opportunities for more than 10 years helped FineMark grow to this point where it needs a new home.
The bank has outgrown not only its building but its parking needs. Mr. Catti said the current headquarters has 67 parking spaces. The new home will have 265.
There may be more growth in the years to come.
"So we're building a new building to accommodate the people we have and future growth," Mr. Catti said.
FineMark has outgrown its Riverwalk home to the point where Mr. Catti said the firm leases space in another building for overflow staff and a neighboring surgical group allows it to use space for events and parking.
The FineMark move has been in the works for quite a while. FineMark purchased the Atrium site last September for $5.96 million in a deal worked out by Gary Tasman, the CEO and principal broker of Cushman & Wakefield.
FineMark briefly considered other sites.
"We looked at Summerlin just south of Cypress Lake and that site was not going to be large enough to build what we needed to build and to accommodate the parking," Mr. Catti said. "We looked at everything we thought was available."
Eventually, they settled on the Atrium site. It is the right size. It is conveniently located, just east of the Cape Coral bridge on a busy corridor. How busy? The Lee County Department of Transportation estimated 37,200 cars a day on average drove along College in 2018 near where it intersects with Riverwalk Park Boulevard.
The new headquarters will be much more visible than the current one. The three-story building will be positioned on a 45-degree angle so that the front door points toward the College-Winkler intersection.