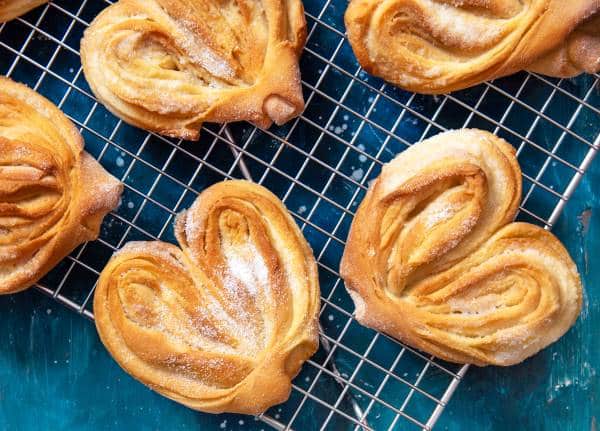 Easy Palmiers
Equipment
Oven

Wire Rack

Baking Sheet

Rolling Pin
Ingredients
1

pound

Frozen Puff Pastry

1

cup

Granulated Sugar

½

Cup

Crushed Candy Canes
Instructions
Thaw pastry per package directions and unfold dough. Trim into 10x10 inch squares, 1/8 inch thick, you will have four squares. Sprinkle top of one square with ¼ cup sugar and 2 tbsp of crushed candy cane. Gently press sugar into dough.

Roll the left side of dough into the center of pastry making sure pastry is even. Roll the right side into the center, meeting the left. Repeat rolling process with the remaining sheets of dough and ¼ cup sugar & 2 more tbsp of crushed candy cane. Wrap rolls separately in plastic wrap, and place in the refrigerator 1 hour or in the freezer until very firm.

Preheat oven to 475. Lightly spray two baking sheets evenly with water. Remove logs from refrigerator, unwrap, and cut crosswise into ¼-inch-thick slices. Place on prepared baking sheets, 2 inches apart. Transfer to freezer for 15 minutes.

Remove from freezer and sprinkle each shape with ½ teaspoon sugar. Bake until bottoms begin to caramelize, rotating sheets halfway through baking, 5 to 6 minutes. Remove from oven, quickly turn cookies over, sprinkle crushed candy canes over palmiers and return to oven. Bake until tops are evenly caramelized but not burned; 1 to 2 minutes more.

Remove from oven, and place baking sheets on wire racks to cool for 1 to 2 minutes. Using an offset spatula, transfer palmiers to wire racks until completely cool. Palmiers can be stored in an airtight container 2 to 3 days, or frozen.
Notes
*If you don't transfer cookies from the sheet to a wire rack after baking, they will stick.