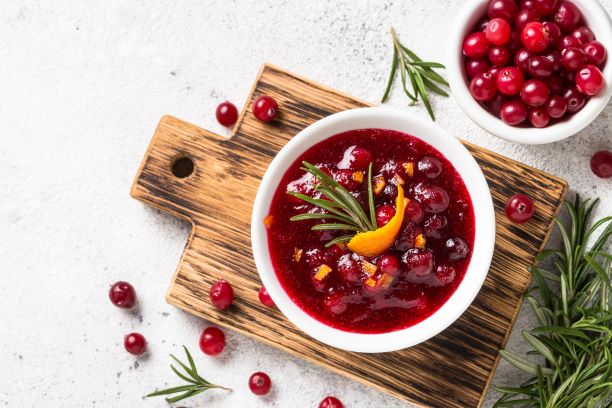 Port-Rosemary & Hibiscus Cranberry Sauce
Ingredients
2

C

Ruby Port

2

ea. 4" Sprigs

Fresh Rosemary reserving the tip of one sprig for garnish

3

C

Fresh Cranberries

1 bag

4

Tbsp

Light Brown Sugar

divided

1

tsp.

Cardamom

1

tsp.

Cloves

2

Tbsp

Orange Marmalade

2

tsp.

Orange Zest

Pinch

of kosher salt

2

tsp.

Cranberry Pear Balsamic Vinegar*

2

tsp.

Hibiscus Tea* steeped in 1 cup very hot water

set aside
Instructions
In a medium saucepan set over med-high heat, add port wine and rosemary sprigs, reduce by just more than half (approximately 20 minutes) Carefully remove rosemary sprigs and discard.

Turn heat to low, add 2 Tbsp brown sugar, cardamom, cloves, pinch of salt, orange zest and orange marmalade, stir well to incorporate and allow marmalade to dissolve.

Add fresh cranberries, cranberry-pear balsamic vinegar and hibiscus tea. Allow the cranberries to breakdown, stirring often. This should take about 10 minutes. Remove from heat, add remaining 2 Tbsp brown sugar, stir. Allow to cool completely, the sauce will thicken as it cools. Store in refrigerator.
Notes
*Buy a good port! Remember you will want to drink what you don't use to cook with.
**Hibiscus Tea and Cranberry Pear Balsamic Vinegar can be sourced at Estero Bay Olive Oil & Tea